Customer Experience Awards Success
THE HOME INSURER has been named as a finalist in The UK Customer Service Excellence Awards 2022 for going Above and Beyond for its clients.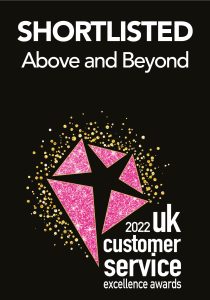 The UK Customer Service Excellence Awards 2022 shortlist achievement goes alongside a 2020 win for Best Customer Retention & Loyalty. The company also holds a current Feefo Platinum Service rating of 4.9 out of 5 stars. It was noted as an Insurance Times Finalist position in 2019 for Broker of the Year.
The Home Insurer showed it goes Above and Beyond for clients by getting involved and assisting its policyholders to make effective claims. Indeed, we help to change the underwriter's approach in our client's favour.
The Home Insurer's Leanne Parry, said: "We build our entire business on understanding what our customers need. We then deliver the most appropriate insurance at the best price possible. So, if any underwriters then try to wriggle out of paying claims, they will have us to answer to. We know what we do is right and support our policyholders all the way."
Standing up for the policyholder against a big insurer is something The Home Insurer will do. It has an enviable track record of supporting its policyholders and getting claims paid. Even when getting claims paid impacts on the profitability and insurer relationships for the business.
The Home Insurer's Tom Chapman said: "It's another customer service award recognition for our company. This really illustrates how we do go Above and Beyond for our clients. Good old fashioned customer service with a smile. You can talk to the same person every time you call up. It's not rocket science, but excellent service is something we do very well."
Call 01832-735388, visit www.thehomeinsurer.co.uk or GET A QUOTE today to see if we can save you money on your home insurance. Let us deliver our exceptional service to you.