Why you need a chimney height of at least 1.8m on a thatched house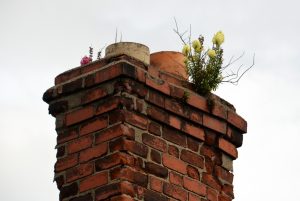 HETAS regulations advise you need a chimney height of at least 1.8m above the ridge on thatched properties. Most UK insurers, understandably, set that figure as a requirement in their insurance policies.
Anything under that height and most insurers will not offer cover for fires started from solid fuel of any kind. Conversely, gas fires are fine and any chimney height is acceptable.
HETAS
HETAS is a non-profit organisation working to create a cleaner and safer environment. In this case they look at the height of chimneys on thatched homes to try and prevent firs from solid fuel burners.
Undeniably, they are experts in their field and say a chimney height of at least 1.8m is the minimum height a chimney must be above the ridge. Thereafter, there is no reason for an insurer to contest this, they are not experts in chimney heights or fires. Therefore, it is a regular condition of thatch insurance for chimneys to have a minimum of 1.8m above the ridge.
What if your chimney is under 1.8m?
Basically, if your chimney is under 1.8m, then you will need to exclude the use of solid fuel or build it up to 1.8m using a metal pot or similar. As far as we know, the NFU still offers policies for chimneys under 1.8m in height. However, these tend to be expensive – as you would expect given the increased risk. Indeed, we see prices around double those properties that meet the minimum standard.
It's worth noting that gas fires can have any height of chimney without penalty.
Chimney height of at least 1.8m and The Home Insurer
The Home Insurer is a leading UK specialist in Thatched Home Insurance. We have a panel of underwriters such as Legal and General, Axa and Aviva at our disposal. Specifically, we can compare thatch insurance for you and offer best terms.
After that, we can offer terms for thatch holiday homes, thatch properties inb flood areas, thatch homes being renovated. As a matter of fact, we can offer terms for just about any thatch property.
To get a quote, please call 01832-735388 and speak with a Thatch Insurance sales professional today. Alternatively, fill in the form located HERE.